Posted on
By Accessibility Medical Equipment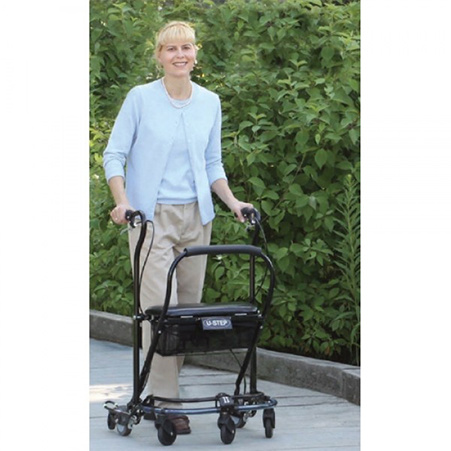 While walkers with seats (also known as rollators) have many great features, they are not ideal for every user.  The handbrake featured on most such walkers brakes when squeezed on each side.  This mechanism requires consistent hand strength on both sides for obvious safety reasons and relatively quick reflexes to apply the brake when needed to prevent falls. 
Traditional folding walkers have, at most, two wheels, a rollator walker has four.  This provides ease of movement, of course, but also the increased likelihood of the walker 'running away' from the user if the brakes are not both pressed firmly or locked. The U-Step Walker has a total of 7 wheels, but it will not run away from the user unlike other rollators due to its Reverse Braking Mechanism.
Like other walkers with seats, the U-Step Walker offers a convenient and comfortable place to sit no matter where you go, as do other rollators, but the Reverse Braking Mechanism eliminates the major hazards of other rollators by only rolling by removing the brake when the handle lever is squeezed, the opposite of other rollators.  With the U-Step, the user can't forget to set the brake or not react quickly enough to apply the brakes because the default position is for the brakes to be engaged and the walker to be stable as a result.  Additionally, only one side of strength is required to squeeze the lever because one lever releases both brakes.  In fact, the U-Step is available in a press down model as well which makes releasing the brake even easier for those with limited hand strength.
For the user where even the U-Step reverse braking system is not enough to keep the walker from rolling away too quickly when the brake is released, the resistance tension of the wheels can be adjusted to allow the walker to move at a slower pace.  
The U-Step Walker folds like other rollators, so space and portability don't have to be sacrificed for safety and stability.  Like other rollators it also has height adjustable handles, but offers a base with far more stability, keeping the center of gravity of the unit low and with support surrounding the user with the 7 wheel design.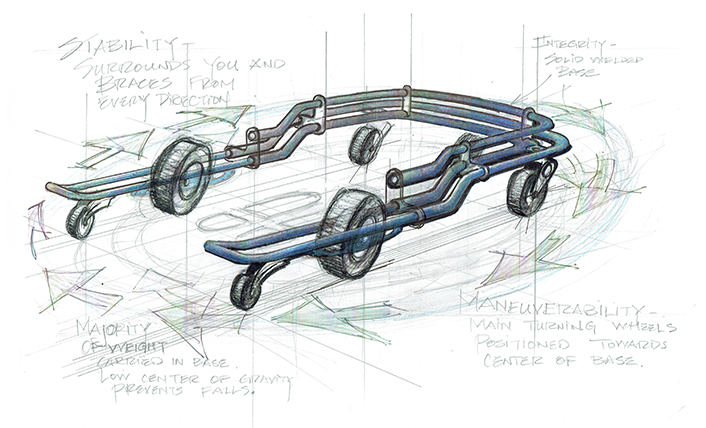 Products such as the UP Walker are another form of rollator where forearm platforms or prompts keep the user from leaning over the handles and provide additional stability for some users.  The U-Step is also available in a platform model which has all of the same features of the standard U-Step.