Accessibility Medical proudly manages the Recycle & Reuse Program in the Kansas City region for the State of Missouri's Assistive Technology division.  Learn More
---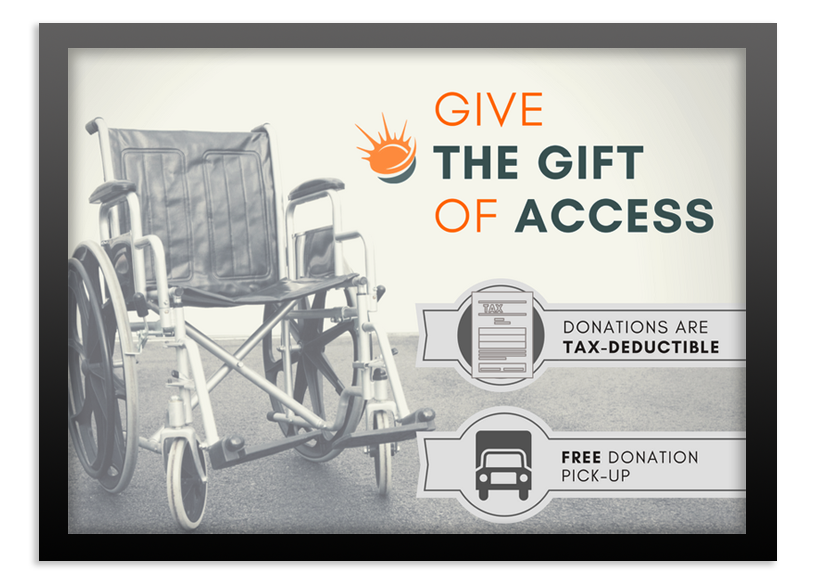 Donations To Accessibility Medical Equipment Are Tax-Deductible
  WHY

GIVE

 
Your donations make affordable equipment available to individuals at all income levels. Finding the right home for refurbished medical equipment can be a challenge, but at Accessibility Medical we have many years of experience in doing just that. Our experienced staff evaluates each donated item to ensure proper function and safety prior to resale, making repairs as necessary and sanitizing each item. 
  WHO 

YOU HELP
• Individuals who are uninsured or under-insured
• Other individuals whose insurance will not cover specific items for a host of reasons
• Children who outgrow equipment before it can be replaced
• School districts trying to meet the complex needs of their students within a limited budget
• Family members who need practical and portable equipment solutions for their loved one with a disability
  WHAT TO GIVE
• Manual & Power Wheelchairs (including mobility device batteries for recycling)
• Hospital Beds
• Bath Safety Equipment
• Patient Lifts
• Standing Frames
• Mobility Scooters
• CPAP Machines
• Oxygen Concentrators
• Canes
• Walkers
• Pediatric Equipment
• Bariatric Equipment
• And many more items...
 Please contact us with your questions at 1.866.201.3829. 
  HOW TO GIVE
Call 1.866.201.3829 to schedule a pick-up.  Donation pickup is not available beyond the Kansas City Metro Area and is generally limited to locations within 20 miles of our Service & Distribution Center.  
Donations can also be dropped off by appointment at our Service & Distribution Center.
---
KC SERVICE & DISTRIBUTION CENTER • 6104 E Connecticut Ave. • Kansas City, MO 64120
8:30 am - 4:30 pm (By Appointment) • Monday - Friday