Posted on
By Accessibility Medical Equipment
Posted in Success Story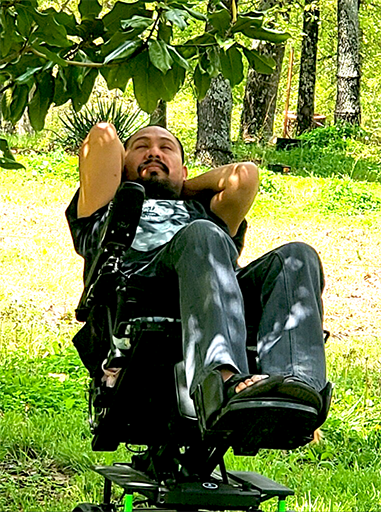 Nico and his wife Jessica, who live in Kansas City, MO, purchased a reclining manual wheelchair from Accessibility Medical Equipment back in October, 2019. Since then, they have purchased a variety of refurbished items to help improve Nico's qualify of life, including a tilt in space powerchair, patient lift, hospital bed, transport wheelchair, an alternating pressure air mattress, ROHO seat cushion, vehicle wheelchair lift/carrier, and more. Jessica said that since the latest purchase of the tilt in space power wheelchair, she has noticed a depression lift from Nico that he has struggled with since his first acquiring his disability. The freedom and independence in daily life that mobility devices can provide to an individual can often make a significant positive impact on mental health and quality of life, as Nico's experience illustrates well. See Nico enjoying his power wheelchair in the photo below.