Posted on
By Accessibility Medical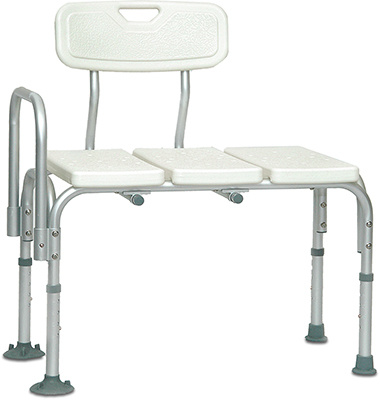 Transfer Bath Benches allow a person to avoid stepping over the edge of a tub to access a tub shower, which can otherwise be difficult and/or dangerous depending on the person's abilities.
If you have a walk-in shower or zero-entry shower you may not have a need for a bath transfer bench.  If you do not have to step over and into a tub in order to access your shower then a simple shower chair may be appropriate.  
Bath transfer benches are designed to be partially inside the tub and partially outside the tub.  For this reason, they work best with the use of a shower curtain.  If your shower/bath tub has a sliding glass door, as some do, you may not be able to effectively utilize a transfer bench without replacing the door with curtains.  They also work best when used with a handheld shower head as the user would bathe while remaining seated, as they also would with a standard shower chair.
The primary benefit of a transfer bath bench is that it eliminates the need for the user to step over the edge of the tub.  Instead, he or she sits onto the outside edge of the seat and slides into the tub while seated, lifting each leg up and into the tub.  
The bathroom is an obvious area of concern for those who are at risk of falling and a tub transfer bench can make all the difference in preventing significant injury as the result of a fall.  An affordable, effective solution for many, these are used for either temporary or long term purposes and provide an important safety tool in one of the most high-risk areas of the home for those at risk of falling.  
Tub transfer benches are reversible.  So if your bathtub shower configuration is different from the one pictured, with the bath fixture to the left rather than to the right when entering the tub, the back can be reversed to accommodate a shower head and fixtures at either end.  
If you have questions about transfer bath benches or other products to help increase access and safety in the bathroom or throughout your home, please give us a call at 1-866-201-3829.  You can shop transfer bath benches and standard shower chairs that we offer at the following link, most of which can be shipped to your home:  https://www.accessibilitymedical.org/bathroom-safety/bath-benches-shower-chairs/